Police Student Volunteers scheme
What we do
The Police Student Volunteer scheme involves Cardiff students working with officers from South Wales Police on crime reduction and prevention initiatives in the local area. The aim of the initiative is to develop stronger community links and to enhance the lives of students and local people to make them feel safer in their communities.
The initiative has given students valuable experience of working with local residents, students and South Wales Police. Their involvement has improved community relations whilst also making a positive impact on reducing crime figures within Cathays.
Volunteers work alongside officers and carry out a range of activities. These can include delivering door to door awareness about crime prevention campaigns, safe policing at major events such as the Varsity match, giving high visible support to Police Community Support Officers and Police Officers at events, on patrols and supporting fellow students through local initiatives such as the Student Safety Bus.
Recruitment for Police Student Volunteers 2016/2017 is now open! Application deadline closes 27th May.
Want to be a South Wales Police Student Volunteer? Contact PC Mike Neate or PCSO Mandy Malins for more information and for an application form…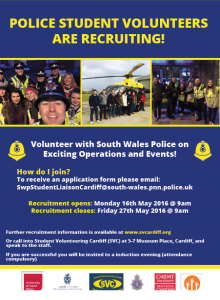 PC Student Liaison Officer Mike Neate.
Email: Michael.Neate@south-wales.pnn.police.uk
Tel: 0292063 3420
Mobile: 07584770987
PCSO Student Liaison Officer Mandy Malins.
Email: Mandy.Malins@south-wales.pnn.police.uk
Contacts
Cardiff Metropolitan University, Cardiff University, University of South Wales & Royal Welsh College of Music & Drama
PC Michael Neate
02920 633420 or 07584 770987
For lengthy enquiries please email us: SwpStudentLiaisonCardiff@south-wales.pnn.police.uk