Prepare for the big move
As you get ready to leave your halls of residence to move into your new home, think ahead and get prepared with our top five tips!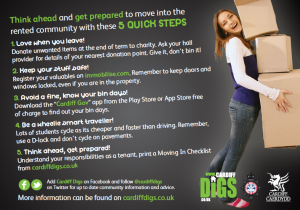 Living in your own house comes with a new sense of responsibility, but how much do you know about living like a local? Find out by trying our survey created in conjunction with Cardiff Metropolitan University!
Remember to follow us on Twitter, for up to date tips and advice. Join in with the conversation with the hashtag #HallsToHomes
Moving Day
Your belongings are packed and you've collected the keys to your new home. Before you jump through the front door ready to bag the biggest bedroom, download our Moving In Checklist to check off as you go and ensure you don't forget anything. Here are the main things to keep in mind:
Inventory
Ask your landlord or letting agent for an inventory and check it carefully.
An inventory details what's in the property and the condition of the house. Note on the inventory any problems, scratches and obvious stains and list any items that are missing or damaged. Take photos (with dates marked) of every room noting any problems.
Make sure you agree the inventory with your landlord/agency and you both sign it. Keep a copy for your own records and refer back to it when you move out.
Safety and Security
Check fire alarms are installed and work, and plan an escape route just in case of a fire. Follow advice from the Fire Service and Gas Safe Register about staying safe in your student house. If you have concerns, you can arrange a free home fire safety check with South Wales Fire and Rescue Service!
Make sure your gas safety certificate is up to date. Ask your landlord/letting agent to show you the certificate – they legally have to do this.
If the house has a security alarm make sure you use it! If you don't you could invalidate the landlord's house insurance and your belongings insurance.
Locate the gas and electricity meters
Contact the utility companies with the meter readings and the date you moved in – keep a note of the readings for yourself. This prevents you paying for gas and electricity used by previous tenants. If in a shared house, ask for all tenants names to be put on the bills, this will prevent one person being solely liable for all bills. Organise other bills like water and TV licenses and arrange between housemates how you will pay.
Locate the fuse box, stop taps and find out how to turn off the water/gas and electricity.
Register with a local GP and keep the numbers to hand
It's better to do this as soon as you move in instead of waiting until you are ill as registration could take up to 2 weeks! Find a GP surgery near you.
Say Hello to your neighbours!
Take a moment to introduce yourselves to your neighbours, it is great to find out who is living in your community and you can also find out a bit about their lifestyle. You could be living next door to your new best friend.
If your neighbours are local residents, they could potentially keep an eye on your home during the holidays or let you know the waste and recycling system. Equally it is good to acknowledge if they prefer a quiet lifestyle, work shifts or have young children so as to avoid future disturbances and live next door in harmony.