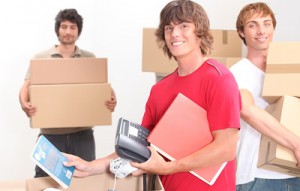 Moving out of your student house is different to moving out of student halls. You now have a house to clean, organise and pack up rather than just one room. But you don't have to do this alone; you and your housemates shared the house so share the work. It's important to do this if you want your full deposit back.
Try our Moving out checklist (60kb PDF)  to make sure you cover everything.
Have you remembered…

What to do…

Done?

Rent – Have you paid all your rent?
Check the landlord has received all the rent if you are unsure
Bond/Deposit – Do you know your Deposit ID and details of where your bond is protected?
Check your tenancy contract and email mail box for the details. If unsure, ask your landlord or contact your Tenancy Deposit Service.
Inventory – Have you checked the inventory you filled in when you moved in? Check for damages that were not there when you moved in.
Check the inventory with your landlord. Arrange an inspection date. Contact your Tenancy Deposit Protection Service if any disagreements arise with regards to the deposit/bond.
Gas, electricity and water –Ensure you've paid outstanding bills.
Take meter readings and notify utility companies of moving out date. Contact Welsh Water on 0800 052 0145 or www.welshwater.com. Find Gas and Electricity details on recent bill.
TV Licence – Have you told them you are moving out? You may be eligible for a partial refund!
Update your details on www.tvlicensing.co.uk
Cleaning – Have you left the property in a clean state?
Clean all areas thoroughly to ensure you get your deposit back. Share duties between housemates. Check on inventory what needs to be done.
Rubbish – Have you removed all rubbish/waste from property and front and back gardens? Check bin days. There may be extra collections at the end of the student year.
Tel : 02920 872087
Put rubbish on the pavement outside your property by 6am on the day of collection (but not earlier than 4pm the day before).
Get it out for Cardiff scheme – Have you donated your unwanted goods to the student charity scheme? When you clear out, donate it.
Donate unwanted kitchen goods, unopened food or clothing to the Get it Out for Cardiff Scheme. Take items to your Student Union and find your Green Zone.
Keys – Have you returned your keys to your landlord/letting agent?
Give landlord/letting agent keys at the moving out inspection.
Mail – Have you changed your address to back home for the summer?
Contact Doctors, Bank, Mobile phone company, Friends, Family, DVLA, Employer.